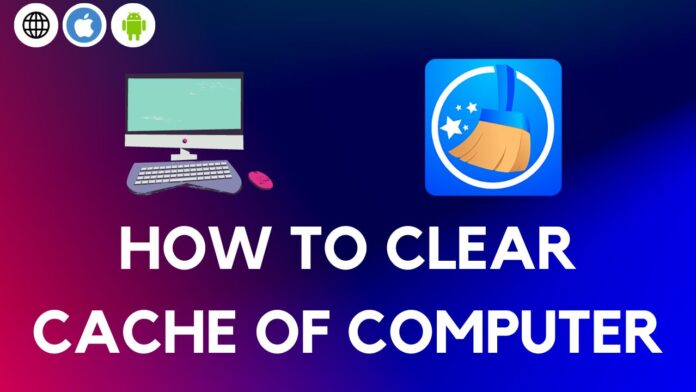 Hi Guy's, When you purchase a new Computer or Laptop it works very smooth at the beginning but after using it for say 6 month or 1 year, you start noticed that your computer/PC/Laptop is not running slow & you are experiencing lag/glitches, That's because the cache memory is full and there is no storage left to store more cache and now it's time to clear the cache of the computer.
What is Computer Cache Memory?
The cache is one of the temporary storage location that is been used to store frequently used data/application which will improve the performance of your computer. However, over time, At sometime in future the cache data been stored become cluttered with unnecessary files or may be old cache data been stored which is not automatically cleared, thus this will leading to a decrease in speed and performance. By Clearing the cache will help you in optimize your computer's performance and clear the cache storage space. In this article, We are here to help you on the step by step method on how to clear cache of a computer.
Step 1: Clearing all the Browser Cache
The browser that you make use for you daily browsing has it's own cache stores temporary files space like for example once you visit a website, the date such as images, scripts, html data and website data is been stored in to browser cache memory so that when you revisit the same website you get website loading experience. and thus your browser will also has cache data that us unnecessary and need to be cleared. Here's How to clear the cache in popular web browsers:
Google Chrome: On the Top-Right corner you will see three-dot click on it, go to "More tools,"& select "Clear browsing data." Choose the time range, then you get option on which type of data you want to clear like Browsing history, Cookie, Cache Images and files and more select one or all of then, and simply click on "Clear data."
Mozilla Firefox: On Top-Right corner you will see a menu button(3 line icon button) click on it to open menu, go to "Settings" and then select "Privacy & Security." from the sidebar menu then Scroll down you will see a section called "Cookies and Site Data" and click on "Clear Data." Now Check the box that says "Cached Web Content" & click on "Clear." button.
Safari: In Safari Browser, navigate to Safari menu, & select "Preferences," from the menu list & click on the "Privacy" tab. Nopw Click on "Manage Website Data" and then finally "Remove All" that will clear all the cache of safari browser.
---
Step 2: Clearing the System Cache
As we discussed what is cache memory and what is the use of it. We saw in step 1 how to clear browser cache, In this step 2 will be check how to clear computer cache.
To clear Cache in Windows Computer all you need to do it delete temperary files to do so follow below steps:
Press the Windows key + R, This will open a Run dialog box. Now type "temp" and press Enter. This will quickly open the directory where all your temporary files & folder are stored. Select all files and folders inside the folder (ctrl + A) and Delete them.
Press the Windows key + R again and this time type "%temp%" to open the temporary files folder for your user account. Delete all files and folders inside.
Finally, the last step is to delete files from prefetch folder to do so, Press the Windows key + R, open the Run dialog box once more and type "prefetch." Delete all files in the Prefetch folder.
---
Clearning System Cache on Mac OS – How to clear cache of mac
On a Mac, clearing the cache involves a few different steps:
Open Finder and click on "Go" in the menu bar. Select "Go to Folder" and type "~/Library/Caches." Delete the contents of the Caches folder.
Next, go back to the "Go" menu and select "Go to Folder" again. This time, type "/Library/Caches" and delete the contents of this folder as well.
---
Step 3: Restart Your Computer
It's a good practice to always restart the computer once the cache is been cleared, so that all the changed get effected and your computer be get fresh.
No need to Regularly clear the cache of your computer but you can do it once in 10 days for you PC to maintain and its performance.