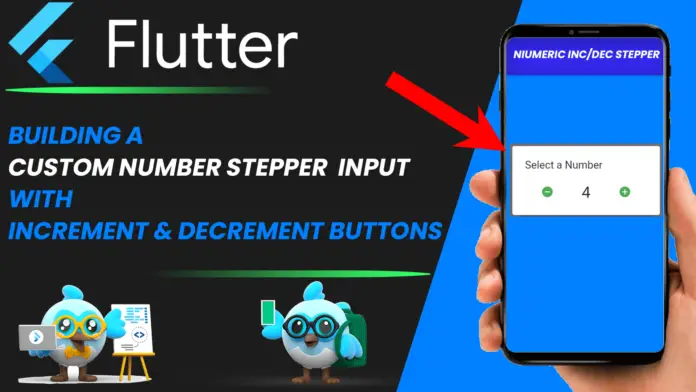 In this Flutter Article let's learn how to create a custom number stepper in flutter, basically a numeric stepper input is an controller through which user can increase or decrease a number value just by clicking on plus(+) and minus (-) buttons on the screen. The current selected value or initial value will be shown between those 2 buttons.
Flutter dart doesn't have an in-built widget to implement number stepper in app. Therefore In this article we will learn show to create a custom number stepper Input.
Number Stepper with Increment & Decrement input
NumberStepper Widget Class
Let's Create a Widget Class that can we reusable any when in the project just by importing it.
Create a dart file under lib directory of your project and name it a numberStepper.dart
numberStepper.dart
This StatefulWidget class, accept 5 required parameter: initialValue, min, max, step, and onChanged (the callback function that passes the selected value to the parent of the NumberStepper widget):
The widget return Row Widget which have 3 children: IconButton(-), Text, IconButton(+), Basically used to Increment or Decrement the value.
import 'package:flutter/material.dart';

class NumberStepper extends  StatefulWidget {
  final int initialValue;
  final int min;
  final int max;
  final int step;

  final Function(int) onChanged;

  const NumberStepper({
    super.key,
    required this.initialValue,
    required this.min,
    required this.max,
    required this.step,
    required this.onChanged
  });

  @override
  State<NumberStepper> createState() => _NumberStepperState();
}

class _NumberStepperState extends State<NumberStepper> {
  int _currentValue = 0;

  @override
  void initState() {
    // TODO: implement initState
    super.initState();

    _currentValue = widget.initialValue;
  }
  @override
  Widget build(BuildContext context) {
    return Row(
      mainAxisAlignment: MainAxisAlignment.spaceAround,
      children: [
        IconButton(onPressed: (){
            setState(() {
              if(_currentValue > widget.min){
                _currentValue -= widget.step;
              }
              widget.onChanged (_currentValue);
            });
        }, icon: Icon(Icons.remove_circle,color: Colors.green,)),
        Text(
          _currentValue.toString(),
          style: TextStyle(fontSize: 30),
        ),
        IconButton(onPressed: (){
          setState(() {
            if(_currentValue < widget.max){
              _currentValue += widget.step;
            }
            widget.onChanged (_currentValue);
          });
        }, icon: Icon(Icons.add_circle,color: Colors.green)),
      ],
    );

  }
}

Using Number Stepper Widget in flutter
Now finally use make use of above Number Stepper Widget, All you need to do is import it where required, In my case I will import it in main.dart
import 'package:flutter_number_stepper/numberstepper.dart';
Syntax to use numeric stepper widget
NumberStepper(
             initialValue: _selectedNumber,
              min: 0,
              max: 10,
              step: 2,
              onChanged: (value){
                   // your event
                 },
 ),
Complete code main.dart – Number Stepper Widget
main.dart
import 'package:flutter/material.dart';
import 'package:flutter_number_stepper/numberstepper.dart';

void main() {
  runApp(const MyApp());
}

class MyApp extends StatelessWidget {
  const MyApp({super.key});

  // This widget is the root of your application.
  @override
  Widget build(BuildContext context) {
    return MaterialApp(
      title: 'Flutter Demo',
      theme: ThemeData(
        primarySwatch: Colors.blue,
      ),
      home: const MyHomePage(),
      debugShowCheckedModeBanner: false,
    );
  }
}

class MyHomePage extends StatefulWidget {
  const MyHomePage({Key? key}) : super(key: key);

  @override
  State<MyHomePage> createState() => _MyHomePageState();
}

class _MyHomePageState extends State<MyHomePage> {
  var _selectedNumber = 0;
  @override
  Widget build(BuildContext context) {
    return Scaffold(
      body: Center(
        child: Column(
          mainAxisAlignment: MainAxisAlignment.center,
          children: [
            Text("Selected Number: ${_selectedNumber}",style: TextStyle(fontSize: 30),),
            SizedBox(height: 30,),
            ElevatedButton(onPressed: (){
                showDialog(
                    context: context,
                    builder:(_)=>AlertDialog(
                      title: Text("Select a Number"),
                      content: NumberStepper(
                        initialValue: _selectedNumber,
                        min: 0,
                        max: 10,
                        step: 2,
                        onChanged: (value){
                          setState(() {
                            _selectedNumber = value;
                          });
                        },
                      ),
                    ));
            }, child: Text("Select A Number"))
          ],
        ),
      ),
    );
  }
}